Marijuana grow ops can be found anywhere, from lower-end neighbourhoods to new and expensive family suburbs. In 2005, there were an estimated 10,000 grow ops in Toronto alone and about 50,000 in Canada. About 20,000 of these were in Ontario.
Shocked? These numbers are only increasing, and the York Region Police believe that if they had all of the resources available to them, officers could spend every hour of every day busting grow ops.
As for the homes that are left behind following a bust, they are completely devastated with mold.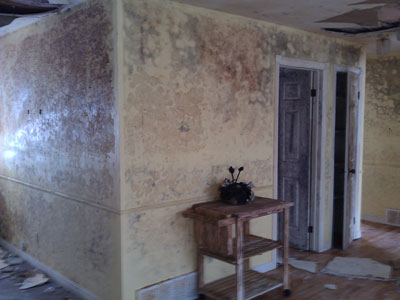 Worse still, there's no one in charge of carrying out the mold inspections or remediation before the houses are put up for sale. They lure in prospective buyers who might not be aware of the building's past and potential for mold growth.
How to recognize a grow op
Signs of a grow op can be both obvious and hidden, so it's important to watch closely for them. Knowing what to look for will help you detect dangerous (and potentially deadly) contamination, such as toxic black mold growth.
Toxic black mold is the result of high humidity levels, and there's exceptionally high levels of humidity in homes used to cultivate marijuana.
Changes to the home's ventilation system and structural integrity contribute to the spread of black mold. A mold inspection should be carried out in order to help uncover any growth and, in the case that it's there, remove it.
An inspection will help protect future residents from suffering the effects of mold exposure.
On that note, for anyone expecting a real estate agent to keep them informed, the Canadian Real Estate Association's ethics guide regarding grow-ops is full of loopholes.
The seller (and listing agent) is only obligated to let a buyer know if the home was a grow-op if there is a latent (hidden) defect the seller knows about, if the buyer asks or if the purchase agreement states the property must not have been used as a grow op.
In 2013, realtors began pushing for the creation of a grow op registry that would alert buyers and real estate agents about former grow op properties.
However, because this idea is not yet reality, it's extremely important that you call on professional mold inspectors if you suspect that your home or the one you're interested in purchasing may have been used as a grow op.
For professional marijuana grow op mold inspection services in Toronto, Mold Busters can help.