Non-Toxic Bathroom Cleaning Tips
Comments 0 | 2015 Jul 31 | Author John Ward
---
Your bathroom should be a sanctuary, not a haven for bacteria, viruses and fungi. Despite this, terrifying microorganisms like black mold always tend to find their way into your bathroom and set up camp.
If the worst does happen and you find yourself face to face with a major mold problem in your bathroom, don't hesitate to call a mold remediation expert, who will be able to identify the underlying cause of the mold growth (usually some type of moisture issue) and clean it up safely and effectively. For those residing in Montreal or Ottawa, our teams are equipped to handle such mold issues efficiently.
However, for small, everyday bathroom messes, there are a number of effective DIY cleaning solutions. But before you rush off to the store and stock up on brand name cleaning products, you may want to consider going green. Using homemade cleaners is not only safe for the environment and you, it also saves a few bucks.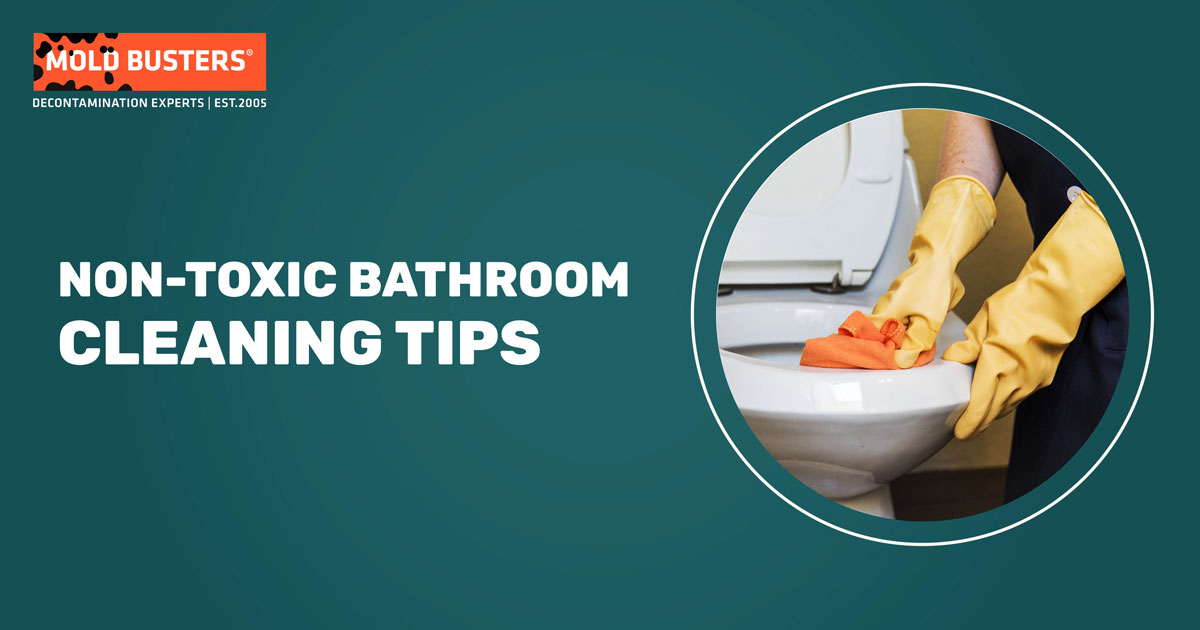 The following non-toxic bathroom cleaning tips, as part of a regular maintenance routine, will ensure that your bathroom stays a germ-free paradise.
Toilet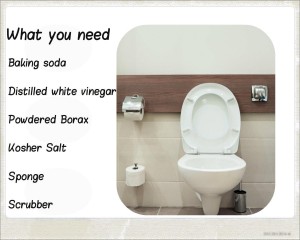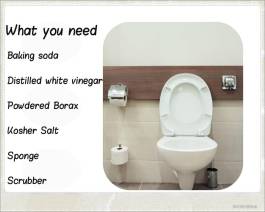 To give your toilet bowl a thorough cleaning, combine ¼ cup baking soda and 1 cup distilled white vinegar. Let the mixture sit in the bowl for 15 minutes then scrub and flush.
For the rest of your porcelain throne, mix together 1 cup baking soda, 1 cup powdered borax, and 1 cup kosher salt. Scatter the mixture on the area to be cleaned, then wipe away with a sponge before rinsing with water.
Countertops and vanity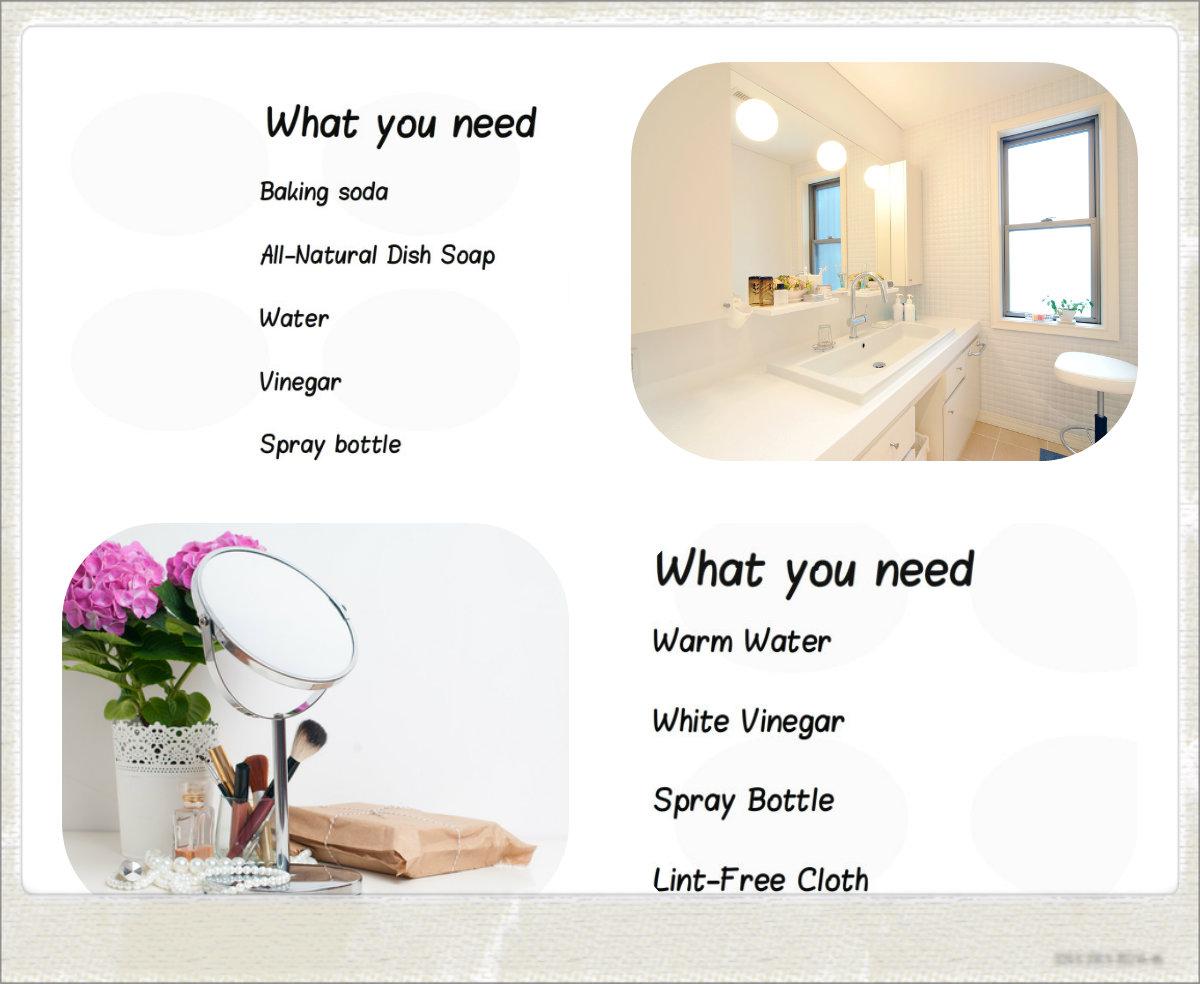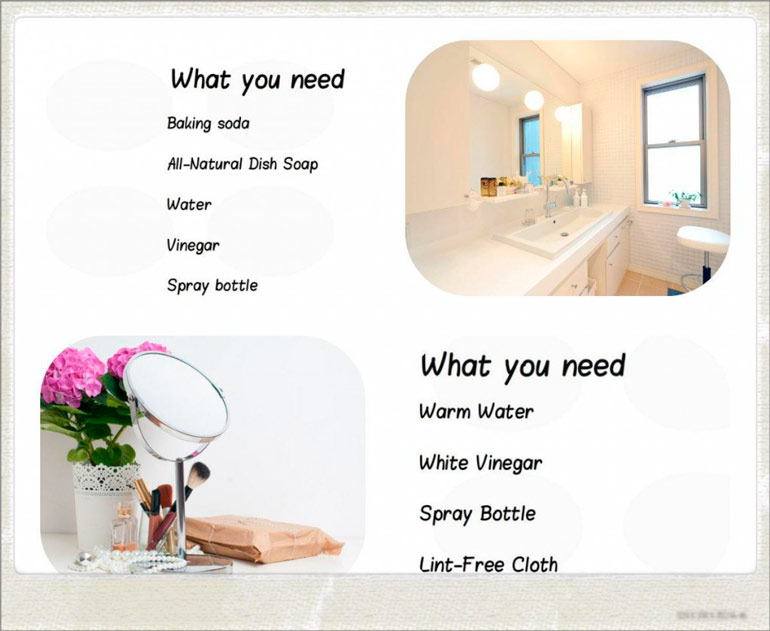 To get rid of those pesky toothpaste splatters that end up on your vanity mirror after an in-depth brushing session, combine equal parts water and white vinegar in a spray bottle and squirt directly on to the splatters. You can use this solution on your entire mirror or just on the stains. If you are lucky enough to have a stain-free mirror, clean it with a lint-free cloth and a bit of warm water.
For your countertops and other surfaces, a simple mixture containing 2 cups of baking soda, ½ cup all-natural dish soap, 1 cup of water, and ½ cup of vinegar will wash the dirt away. Combine the ingredients in a spray bottle and use it to get those countertops shiny.
Shower and bath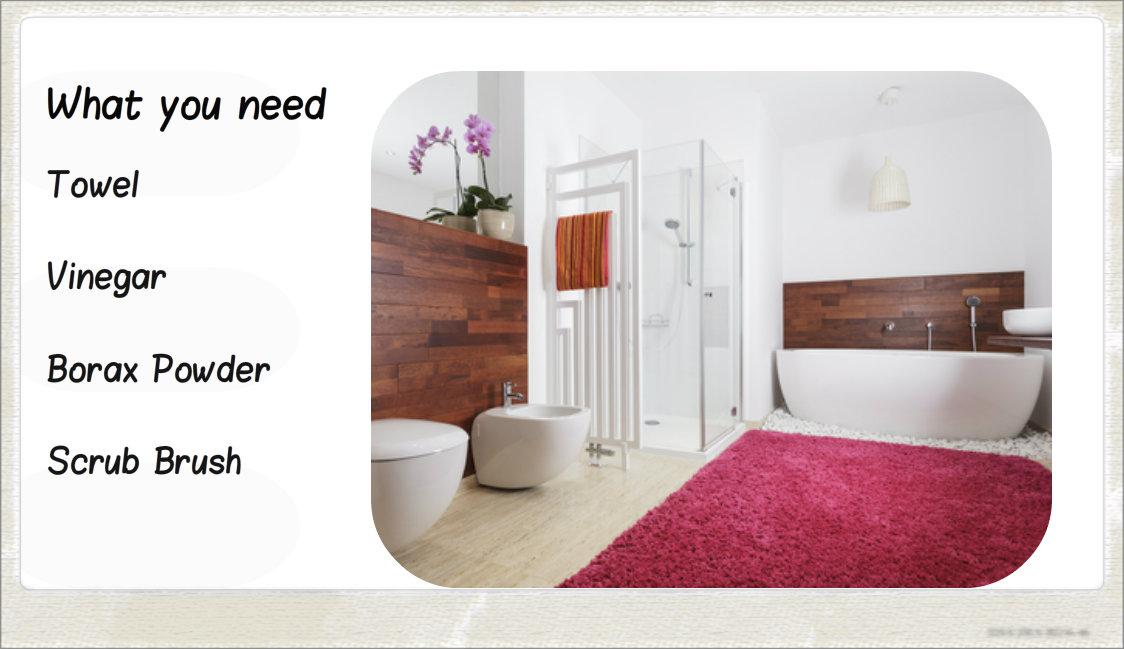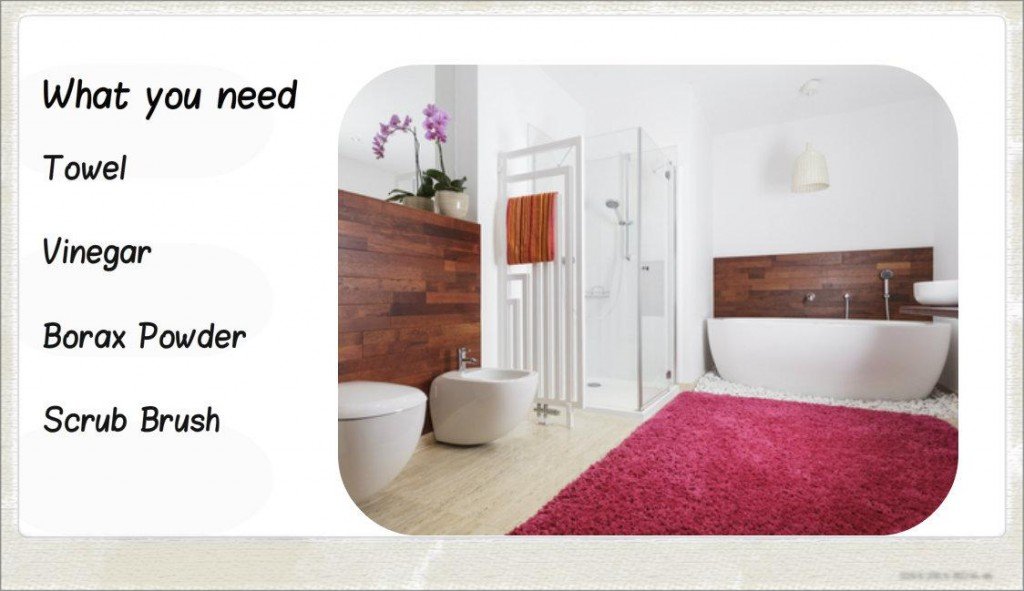 Remove calcium and lime deposits by soaking a towel in vinegar and wrapping it around your faucets. Leave the towels in place overnight.
To get rid of mold and mildew, make a paste with ½ cup borax powder and ½ cup vinegar, and use a scrub brush to really get that grime off. For areas with tough mold, like the corners of a shower door, let the paste sit on the affected area for an hour before scrubbing.
Do not forget to clean the grout between the tiles as well as your shower accessories like caddies, soap dishes and curtains. You can use the same paste mixture to clean everything in your shower and tub, including the walls.
Drains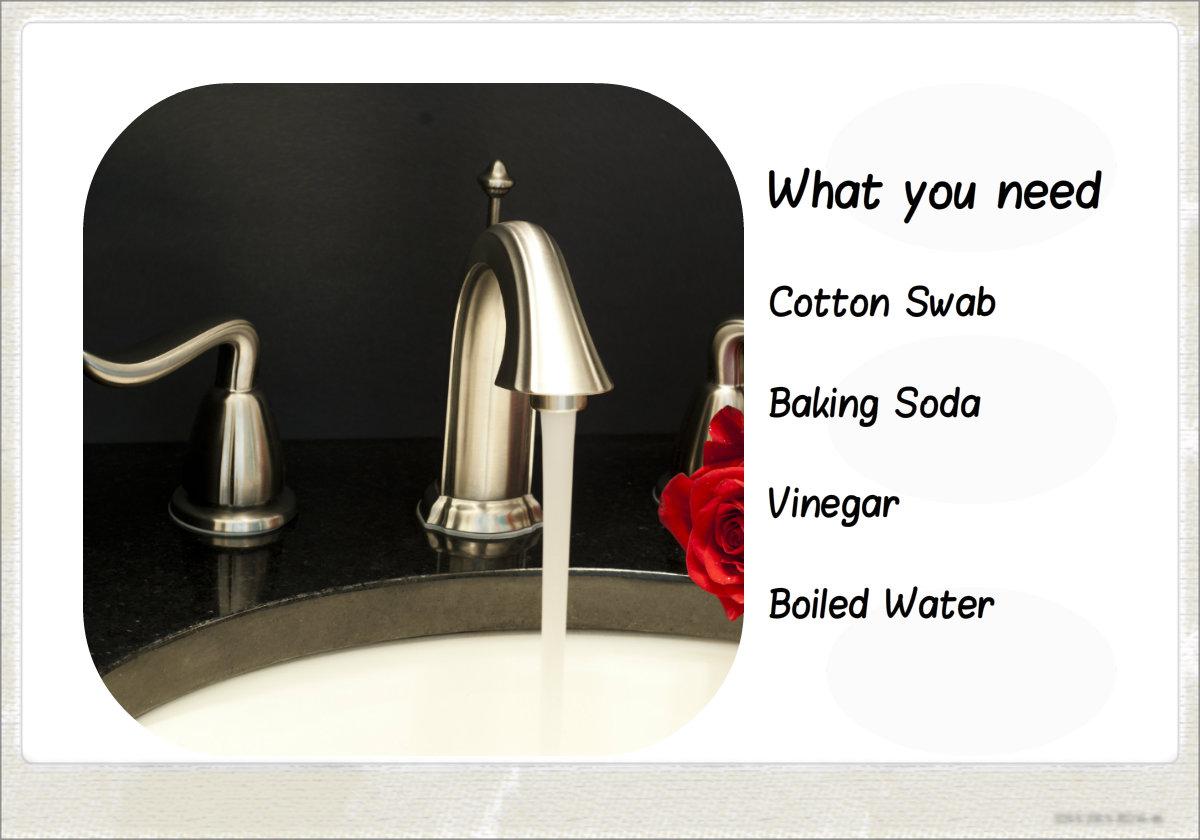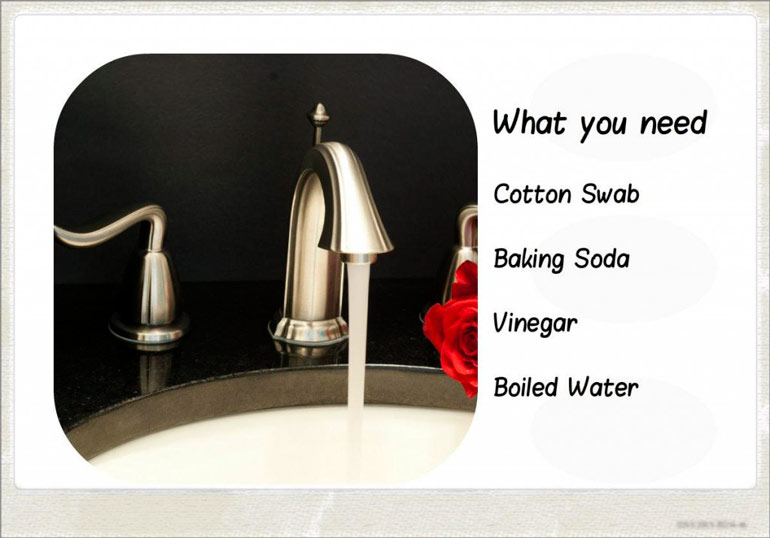 You could probably make a wig out of all the stray hair that accumulates in your bathroom drains. Using a cotton swab, remove all the hair strands in your shower and sink drains. Then, pour ½ cup baking soda followed by 1 cup vinegar down the drain.
After about 20 minutes, flush the drain with boiling water. For clogged sinks and shower drains, you can leave the vinegar and baking soda in the drain overnight before rinsing.
Floors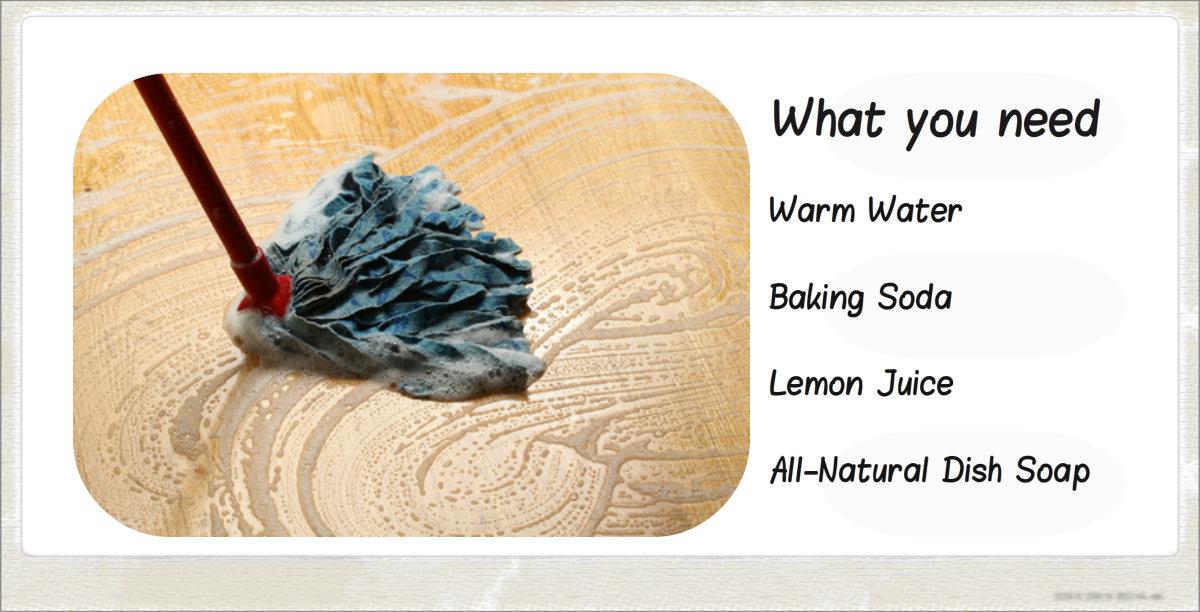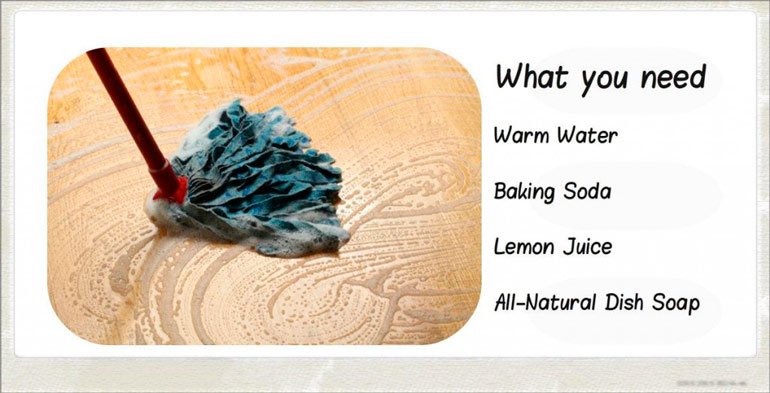 Your bathroom floor picks up all kinds of bacteria. To get it looking spic and span, take a bucket of warm water and add ½ cup baking soda and a teaspoon of lemon juice. Mop the floor with this solution and rinse.
Bath mats should be washed in the washing machine. However, you can spot clean them with a dab of all-natural dish soap and warm water.
The importance of regular bathroom maintenance
Regular maintenance of your bathroom plays an important role in the prevention of mold, not to mention the proliferation of bacteria and germs. If you're unsure about the condition of your bathroom or suspect mold growth but can't have an in-person inspection, consider our virtual inspection service to assess the situation.
To keep your bathroom at its safest, you need to take proper care of it. Follow these five cleaning tips and you will surely be on your way to a spic and span bathroom.
---