Mold Removal in Brossard
Before you begin the process of removing mold from your Brossard home, you must first identify which rooms and materials are affected by the contamination. A professional mold inspector will look for signs of mold contamination as well as conduct various diagnostic tests (including a mold test, infrared scan, moisture measurement, etc.). He or she will then assess the level of contamination and based on this information, you can decide whether to proceed with cleaning up the mold yourself or hiring a professional mold removal company.
Health Canada recommends getting professional help for mold growth that covers more than one square meter or for a mold problem that keeps coming back after cleaning. If you do decide to clean the mold yourself, ensure that you have all the proper safety gear, equipment and containment set up so that you can remove the mold safely and effectively, without spreading the contamination to other areas of the home.
Your best bet if you want avoid complications, unexpected expense and health risks associated with accidental exposure to mold, contact Mold Busters, Brossard's most trusted mold removal experts.
Air Quality Testing and Mold Remediation in Brossard
Why Choose Mold Busters?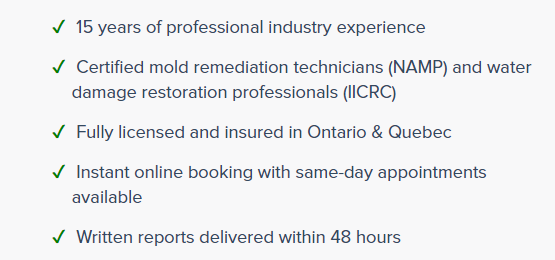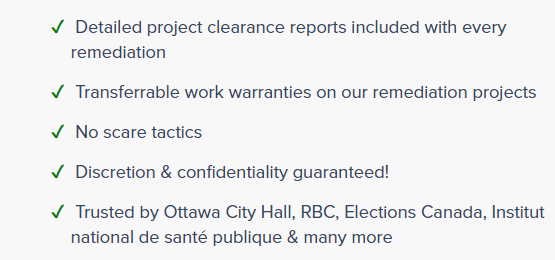 Our Certifications