Andrey Golubev
Senior Indoor Environmental Inspector, Remediation Supervisor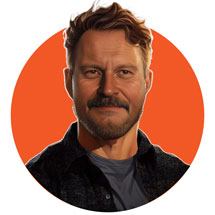 Andrey Golubev, co-founder of Mold Busters, is an esteemed figure in the mold industry, affectionately referred to as the "Yoda of Mold". With nearly two decades of experience under his belt, Andrey's expertise in mold remediation is second to none. His extensive knowledge and commitment to excellence have been instrumental in establishing Mold Busters as a trusted provider of mold remediation services.
As a certified Mold Inspector, Mold Remediator, Thermographer, and Water Restoration Technician, Andrey is a comprehensive resource for all mold-related concerns. Whether he's performing a mold inspection, supervising a mold removal project, or sharing his insights through education, Andrey delivers exceptional service that consistently exceeds client expectations.
In addition to his hands-on work, Andrey is also an accomplished author. His book, "It's Not Mold Until It's Tested", is a must-read for anyone in the mold industry, providing valuable insights into the complexities of mold inspection and remediation. His ability to distill complex concepts into easily understandable information underscores his commitment to client education and empowerment.
Andrey's breadth of knowledge isn't confined to one locale. He has made significant contributions to our Ottawa and Montreal locations, elevating our services and strengthening our reputation in each region.
With Andrey leading the charge, you can rest assured that Mold Busters is more than equipped to handle any mold-related challenge that comes our way. His expertise, dedication, and unwavering commitment to client satisfaction are what make him a true asset to our team and a trusted figure in the industry.
Latest publications