Workplace Hazardous Materials Information System Course (WHMIS)

: Master Workplace Safety Today

Unlock the Secrets of Hazardous Materials Handling.
Why WHMIS Matters?
Workplace safety isn't just a buzzword—it's a commitment. Every year, countless professionals face risks due to inadequate knowledge about hazardous materials. But what if you could change that? What if you could ensure not just your safety but also become a beacon of knowledge for your peers?
Dive into the World of WHMIS with Mold Busters
Our Mold Busters' WHMIS Course isn't just another training program. It's a journey—a comprehensive guide designed meticulously to make you a master of the essentials of workplace safety.
Why is WHMIS essential? WHMIS, or the Workplace Hazardous Materials Information System, is the national standard for hazard communication in Canada. It's not just about compliance; it's about ensuring that every individual working around hazardous materials, from compressed gases to solvents, understands the risks and knows how to handle them safely.
GHS Integration: We align our training with the Globally Harmonized System (GHS), ensuring you're not just meeting Canadian standards but also global benchmarks.
What Sets Our Course Apart?
Online & Flexible: Learn at your pace, from the comfort of your home.
Comprehensive Curriculum: From understanding chemical hazards to interpreting WHMIS labels, we've got you covered.
Industry-Recognized: Our course isn't just comprehensive; it's recognized across industries.
Absolutely Free: Yes, you read that right! We believe in empowering every professional, and we're offering this course for free.
Ready to Embark on Your WHMIS Journey?
Don't wait. The path to mastering workplace safety is just a click away. Enroll now and take the first step towards a safer, more informed future!
Workplace Hazards: The Silent Threats Lurking in Every Corner
Every workplace, whether it's a bustling construction site or a seemingly safe office building, harbors potential fall hazards. Loose cables on the floor, wet surfaces, unprotected edges, and unstable ladders are just a few of the many risks that employees face daily. These hazards often go unnoticed until it's too late, making them silent yet deadly threats.
Consequences: The High Price of Neglect
Ignoring these hazards doesn't just risk physical harm—it can have lasting implications:
Human Cost: A single fall can lead to severe injuries, long-term disabilities, or even fatalities. Beyond the immediate pain and suffering, it affects the individual's quality of life, their families, and their future.
Financial Burden: Workplace accidents lead to medical expenses, compensation claims, and potential lawsuits. Companies might face hefty fines for not adhering to safety regulations.
Reputation Damage: News of workplace accidents spreads fast. It can tarnish a company's reputation, making it hard to attract talent or retain clients. Trust, once lost, is challenging to rebuild.
Operational Setbacks: Accidents disrupt operations. There might be project delays, loss of skilled labor, or even temporary shutdowns, affecting the bottom line.
The Need for Training: Your First Line of Defense
While the risks are real and the consequences dire, they're not inevitable. Proper training stands as the most effective shield against these hazards. With the right knowledge and skills:
Employees can recognize and report potential threats before they escalate.
Managers can implement preventive measures, ensuring a safer environment for all.
Companies can foster a culture of safety, where every individual understands their role in preventing accidents.
In a world where risks are omnipresent, training isn't just a requirement—it's a moral and professional obligation.
Unmask the Hidden Dangers:
Don't let unseen hazards compromise your safety. Equip yourself with Mold Buster's WHMIS Training Course and turn potential threats into managed risks. Exclusive offers for early enrollees!
Dive Deeper into Our WHMIS Training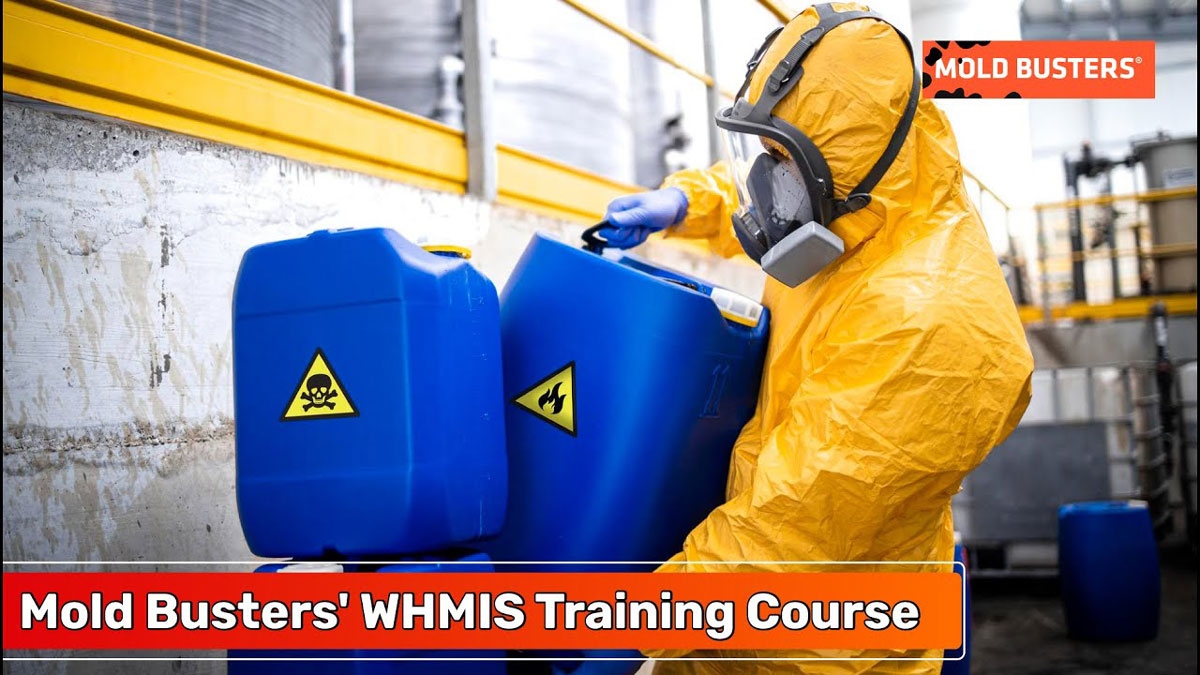 📚 Course Modules
Chapter: Introduction to WHMIS – Get acquainted with the basics of WHMIS, its importance, and the foundational concepts that drive workplace safety.
Chapter: Understanding WHMIS Symbols – Dive into the world of WHMIS symbols, learning to recognize and understand the meaning behind each one.
Chapter: Hazardous Material Handling – Equip yourself with the knowledge and best practices for handling hazardous materials safely and effectively.
Chapter: Labeling and Safety Data Sheets (SDS) – Discover the significance of proper labeling and the critical information contained within Safety Data Sheets.
Chapter: Protection and Safety Procedures – Learn about the protective measures, equipment, and procedures to ensure safety when working with hazardous materials.
Chapter: Emergency Response and First Aid – Prepare yourself for emergencies with guidelines on immediate response actions and first aid procedures.
Assessment and Certification
🎮 Interactive Learning
Our course isn't just about passive consumption. We believe in active learning, and that's why we've incorporated:
Quizzes: At the end of each module, test your understanding with comprehensive quizzes designed to reinforce key concepts.
Interactive Graphics: Visual learners rejoice! Our course contains interactive graphics that make understanding complex concepts a breeze.
Elevate Your Knowledge:
Why scratch the surface when you can delve deep? Explore the intricacies of WHMIS with Mold Buster's in-depth training. Special discounts for the next 50 sign-ups!
Why Choose Mold Busters' WHMIS Course?
Dive into a course that's more than just a training—it's a transformative experience. Here's why our WHMIS course stands out
📘 Comprehensive Curriculum
Our WHMIS course isn't a mere overview—it's a deep dive. We've meticulously crafted a curriculum that covers every facet of WHMIS, ensuring you grasp both the foundational concepts and the intricate details. From understanding the symbols to the nuances of hazardous material handling, we ensure you're well-equipped to navigate the world of workplace safety.
🌐 Online Convenience
In today's fast-paced world, flexibility is key. Our WHMIS course is entirely online, allowing you to learn at your own pace, anytime, anywhere. Whether you're squeezing in a module during your lunch break or dedicating a weekend to comprehensive learning, our course adapts to your schedule, not the other way around.
🏆 Industry Recognition
Quality and relevance are at the core of our course. Mold Busters' WHMIS training aligns with industry standards, ensuring that what you learn is both current and applicable. Our course isn't just recognized—it's respected. Equip yourself with a certification that employers value and peers acknowledge
💰 Free Offering
We believe in empowerment through education. That's why we're offering our comprehensive WHMIS course absolutely free of charge. It's not a trial; it's our commitment to ensuring every professional has access to top-tier safety training without the barriers of cost.
Choose Mold Busters. Choose excellence in WHMIS training.
Make the Right Choice:
Quality, depth, and recognition – Mold Buster's WHMIS Course offers it all. Join the ranks of safety-conscious professionals. Limited-time offer for the first 100 enrollees!
🅐
Alex T., Health and Safety Officer
The Mold Busters' WHMIS course was a game-changer for me. The depth of the content, combined with the ease of online learning, made it an invaluable resource. I feel more confident and informed in my workplace now. Highly recommended!
★★★★★
🅟
Priya S., Lab Technicianer
I've taken a few WHMIS courses over the years, but this one stands out. The curriculum is comprehensive, the platform is user-friendly, and the fact that it's free is just the cherry on top. Kudos to the Mold Busters team!
★★★★★
🅟
Michael O., Operations Manager
As a manager, I wanted my team to have the best training available. Mold Busters delivered. Not only did my team benefit, but I also took the course and was impressed by its quality and relevance.
★★★★★
Benefits of Completing the Mold Busters' WHMIS Course
📜 Certification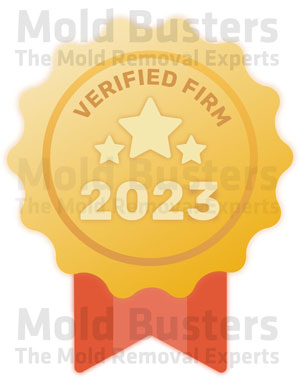 Trained in accordance with
Mold Busters' WHMIS Training
(Note: The actual certificate will have your name and the date of completion)
Upon successful completion of the course, you will receive a Mold Busters' WHMIS Certification. This certification not only serves as a testament to your dedication and knowledge but also adds a valuable credential to your professional portfolio.
🚀 Skill Enhancement
Deep Dive into WHMIS: Go beyond the basics. Our course ensures you understand the intricacies of WHMIS, making you a true expert.
Continuous Learning: The world of WHMIS is ever-evolving. Our course ensures you're always updated with the latest in the field.
🛡️ Safety and Compliance
Prioritize Safety: Knowledge is the first step to safety. Equip yourself with the know-how to ensure a safe environment for yourself and your colleagues.
Stay Compliant: WHMIS regulations are stringent, and non-compliance can lead to severe repercussions. Our course ensures you're always in line with the latest regulations, safeguarding you and your organization.
🌟 Career Advancement
Stand Out: In a competitive job market, every credential counts. A WHMIS certification showcases your commitment to safety and continuous learning, making you a valuable asset to any organization.
Open New Doors: Many roles, especially in industries dealing with chemicals and hazardous materials, require WHMIS knowledge. With our certification, you're not just eligible for these roles; you're a top contender.
Become the Go-To Expert: Elevate your professional status. With the comprehensive knowledge you gain from our course, you'll become the go-to WHMIS expert in your organization.
Frequently Asked Questions
Yes! Once you successfully complete the course and pass the final assessment, you will receive a Mold Busters' WHMIS Certification, which you can proudly add to your professional credentials.
Definitely. Our WHMIS course aligns with industry standards, and the certification is both recognized and respected across various sectors, especially those dealing with chemicals and hazardous materials.
Our course platform is user-friendly and designed with all users in mind, including those who might not be very tech-savvy. Plus, our support team is always available to assist you if you face any challenges.
Yes, our course is optimized for both desktop and mobile devices, allowing you to learn on the go, wherever you are.
No, there are no prerequisites. Whether you're a beginner or have some prior knowledge of WHMIS, our course is designed to cater to all levels of expertise.
Questions? We're Here to Help!
Your journey is important to us. If you have any questions or need further information:
Info
Mold Busters, Canada
Customer Service: 24/7
Inspection & Remediation: 8AM- 5PM