Radon Testing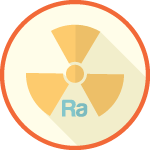 Ottawa & Montreal
Radon problems are often overlooked because radon is a colourless and odourless gas that is undetectable without proper testing.

At Mold Busters, our clients receive professional and affordable radon testing in Ottawa and the very same reliable radon testing in Montreal–it's been this way for nearly 10 years.
Research has shown that exposure to radon, particularly to high concentrations over long periods of time, increases risk of lung cancer.
According to Health Canada, radon is the second leading cause of lung cancer after smoking and accounts for 16% of lung cancer deaths—that's 3,200 Canadian deaths per year due to radon exposure.
One of the greatest dangers of radon exposure lies in the fact that the effects are not immediate. Short-term or occasional exposure to radon does not produce any notable symptoms, such as skin irritation or coughing. It's only after long-term exposure to radon that people find out that their health has deteriorated.
That's why getting your home tested for radon is so important. So book your radon test today!