Post-Construction Cleaning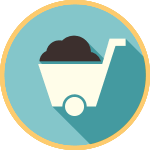 Ottawa & Montreal
Building or renovating your home is an exciting time. However, it often brings the inevitable dread of cleaning up after contractors—a reality that often gives homeowners major headaches. If only this part of the construction process could be skipped.
Well, with Mold Busters post-construction cleaning services in Ottawa and Montreal, you don't have to worry about the huge mess that contractors leave behind.
We'll take care of every step of the cleanup process, from throwing out leftover trash to vacuuming, wiping and sanitizing every surface of your home. We'll even remove any lingering odours to leave your new space fresh and clean! Floors, ceilings, walls—we've got you covered.
We use powerful, industry-grade equipment in every job to ensure the highest level of sanitation. Call us today for friendly, reliable and thorough house cleaning services in Ottawa and Montreal.