Moldy Document Shredding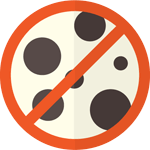 Ottawa & Montreal

Did you know that you can remove mold from books and even salvage old documents, archives and records from the worst of mold problems?
Depending on the situation, Mold Busters may be able to restore your documents nearly to perfection. When document restoration is not possible, we offer a safe moldy document shredding and disposal service.
Your biggest risk is time, which is why you should contact us for a mold assessment and estimate as soon as possible
Mold can be a powerful foe because it multiplies quickly and feeds off of cellulose-rich materials (paper!). That's why it's crucial to act fast if you're hoping for a positive outcome. Otherwise, you might lose important historical, family and business documents.