Bed Bugs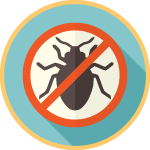 Ottawa & Montreal

Bed bugs are trouble. These small, brown parasitic insects hide inside the seams of mattresses and box springs; on night stands and headboards; and in any corner or crevice near your bed, just waiting to bite you.
Bed bugs can live mroe than 10 months, feeding off your blood as you sleep. And this is just one of their many negative effects.
If you notice signs of a bed bug problem, contact a professional for immediate help. Mold Busters is a leading remediation company in Ottawa and Montreal with nearly 10 years of professional experience. Call us today!
Negative effects of bed bugs
You might find it difficult to sleep with these insects crawling over your bed and body. You might be itchy and generally uncomfortable.
You'll begin to notice bites similar to flea and mosquito bites. They'll appear most often on your face, neck, arms, chest and legs, with the following attributes:
Swollen
Itchy
Red
Irksome
Bed bugs are not life-threatening. However, depending on how sensitive you are to their bite, you may experience an allergic reaction and require immediate medical attention.
These insects are also troublesome in that they latch onto your luggage and travel with you. For example, if you're staying at a hotel that's infested, you could easily carry the bed bugs home.
How to tell if you have bed bugs
Like mold, bed bugs don't discriminate so even spotless homes and luxurious hotels can become infested.
Though it is possible to see bed bugs, they are not easy to spot because their bodies are small and flat. So, keep your eyes peeled and check for the following signs:
Small blood stains on your bed sheets and pillow cases
Insect excrement (the colour of rust) on your bed sheets, walls, mattress, etc.
Red, slightly swollen bites on your body
Musty odours
Shed skin/shells beneath or in the piping of the mattress
These insects can stay alive for months even without feeding, so look for other signs (not just bites) when inspecting your home.
Getting help for bed bugs
It's imperative that you terminate bed bugs as soon as you know there's a problem. The sooner you do, the sooner you'll get your belongings and your quality of life back.
However, eliminating bed bugs is no easy feat, so enlist professional help. Call Mold Busters in Montreal or Ottawa to achieve a healthy home.