Establishing Disinfection Protocols: Infection Control Cleaning
Now more than ever, we depend on our ability to keep indoor environments clean, safe, and conducive to an uncompromised immune system. However, that's not always easy to achieve, especially if you aren't familiar with the best practices to follow. In addition, perhaps you're unsure just how big of an impact going to such lengths can have on reducing transmission and infection risk, especially during such difficult times as amidst the COVID-19 pandemic.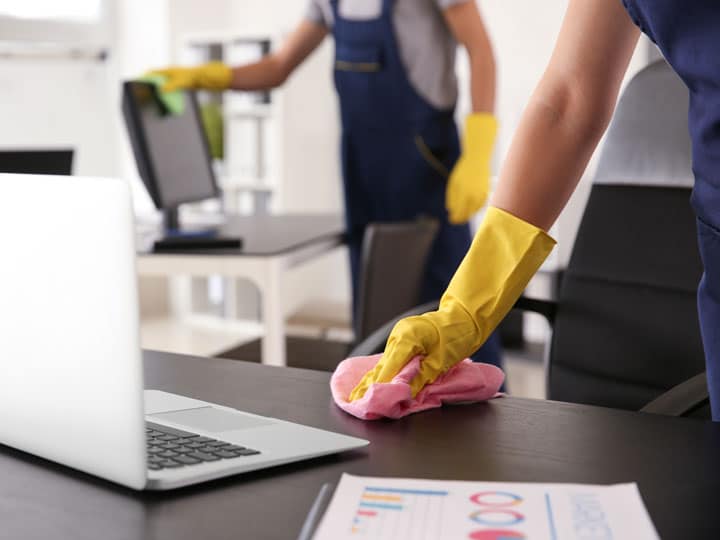 At Mold Busters, we completely understand these concerns and want to help you make informed, proactive decisions to maintain a safe environment. Along with our suite of specialized disinfection services, we're happy to answer any questions or concerns you may have about establishing an effective infection control cleaning strategy. To start, let's go over the fundamentals.
Principles of Infection Control Cleaning
Ensure a thorough, efficient disinfection to create a safer environment
Immediate, appropriate addressing of critical hazards (COVID-19 outbreaks, biological waste spills, etc.)
Implement safe handling, transport and disposal techniques to protect staff, visitors, customers, etc.
Familiarization with required protective equipment, tools and supplies needed to address certain spills while following WHMIS, FIFO and other safety directives
Organize and implement an effective recurring cleaning strategy (more frequent in wake of COVID-19)
Follow established public health guidelines and safety protocols
Develop more effective infection control through continued practice and training
Adherence to InterNACHI COVID-19 safety guidelines to protect workers and visitors
Why Environmental Cleaning Benefits Infection Control?
In many environments, a thorough disinfection demands more than heavy-duty soap and elbow grease. For instance, retirement homes and hospitals facing the brunt of the COVID-19 transmission risk need to be cleaned much more comprehensively and regularly, adhering to a strict schedule that also applies social and physical distancing best practices. On the other side of the coin, local businesses such as malls, movie theatres, and offices require amplified disinfection strategies, particularly when it comes to touchpoints such as products on shelves and door handles.
In order to achieve the cleanest indoor environment possible – therefore reducing the spread of airborne aerosols rich with microbes that could potentially be infectious – you need to be armed with proper knowledge and best practices. These are the same standards of operation our own team follows when performing disinfection services in local homes and businesses. Knowing which gloves to wear in which circumstances, how to properly decontaminate an area with the right disinfectant, and how to safely dispose of virus-laden materials encompass just the tip of the iceberg in terms of must-knows. That's why many folks prefer to turn to us at Mold Busters for thoughtful, professional service – we're fully IICRC and RBQ certified with over fifteen years of experience.

With that said, if you need to address an issue right now and need to know the essentials, below are some critical dos and don'ts to guide you in the right direction. Further research on the fundamentals is critical to your safety as well as that of those around you, so reach out to us for deeper insights or to request dedicated disinfection services.
Essential & DO Recommended Actions:
Practice frequent, thorough handwashing between every task (and follow the 20-second rule!)
Always wear high-quality gloves and put distance between yourself and what needs to be cleaned up, especially if it's viral pathogens or bodily fluids. You can do this with layers of paper towels, brooms with disposable heads, and other solutions.
If you can't take the risk, don't go near the affected area and instead call in the professionals with protective equipment!
Safely remove all soiled cleaning materials by the use of leak-proof disposable bags. Be sure to follow established health and biohazard management guidelines.
After you're done one task, change your gloves and wash your hands before starting another. Treat discarded gloves as if they're contaminated, because they probably are!
If you're in a pinch in terms of cleaning supplies, diluting one part of bleach with 99 parts of water is a workaround for decontamination. A second pass may also help, just to be safe.
Always thoroughly wash and disinfect reusable cleaning equipment after each use.
If you're not sure how to address a biohazard spill or infection safely, don't attempt to. Reach out to someone with proper certification and training to reduce the risk of transmission.
Wrong & NOT Recommended Actions:
Overload biohazard containers with soiled or infected items.
Wear the same pair of gloves for multiple tasks – it makes your efforts pointless!
Avoid touching sharp objects, which could puncture, injure or potentially even infect you.
Use unlabeled "cleaners" or carry them in unsealed containers. Spills are just as dangerous.
Jump right in and start mopping up a biohazard spill/known infection area without first identifying whether you have adequate equipment and best practice knowledge.
Leave a biohazard to deal with later. Every passing second threatens lives.
Attempt to clean up after a COVID-19 patient without extensive training and knowledge of transmission risk reduction best practices (InterNACHI safety guidelines, for instance).
Ignore established best practices or disinfection protocols.
Need Help with a Disinfection Task?