Carpet Cleaning in Ottawa and Montreal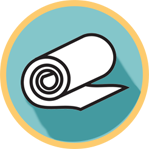 Most of people try to keep their living environment as clean as possible and that includes carpets. The most common way of cleaning them is vacuuming and occasional washing. However, seldom do we check if our carpets contain any hidden pollutants that cannot be removed by the above-mentioned processes. For this reason, you should think about your carpet's history and, if necessary, consider deep cleaning.
In the past, carpets were considered a symbol of high status but these days, they have become commonplace throughout years. Most of us take them for granted—rarely does anyone see carpets as a threat to their health. However, if they aren't maintained properly, they are not at all harmless.
Should you notice any signs of mold and/or any kind of carpet compromise (odours, stains, etc.), call Mold Busters. We will perform a comprehensive inspection and advise you if any action needs to be taken. Our goal at Mold Busters is to help you establish if your living space needs improvements in terms of mold, poor indoor air quality (IAQ), and various other health enemies.
Why Consider Professional Carpet Cleaning?
Wet carpets take longer to dry than other materials after flooding, dirt accumulation, or any other kind of damage. They easily absorb water, dirt and other pollutants, which can lead to the development of mold, bacteria as well as unpleasant odours. The issues multiply if carpets are located in areas of high humidity such as bathrooms, basements and kitchens.
Indoor air quality is known to be worsened by microbial volatile organic compounds (MVOCs) emitted from various sources like building materials, paints, air conditioners, appliances, printers and carpets. These gasses create bad odours that come across as musty, earthy or moldy. Carpets are a storehouse for mold spores, dirt, dust, pollen, and all other particulates that enter your home from the outside. If your carpet contains high levels of these pollutants, it can greatly reduce your IAQ on a daily basis and thus lead to health problems.
And if you have kids that is one more reason to pay attention to the condition of carpet. Children play on carpets and come into contact with any materials on or in it. If your carpets aren't cleaned properly or regularly, your kids are at risk of developing health problems due to a dirty environment.
If you answer "yes" for one or more questions from the following list, carpet cleaning may be necessary for you:
Do you occasionally skip regular vacuum cleaning of your home?
Do you have any ventilation issues in your home?
Do you walk inside with your shoes on?
Is smoking allowed in your place of residence?
Do you use air fresheners or scented candles?
Have there been any water leaks or any water-related problems?
Do you have any mold concerns?
Do you share your home with pets?
Have renovations taken place?
Pollutants accumulate over time, especially if you have large areas of your home covered with carpet. The problem increases if VOCs enter ducts and spread all over your home through the ventilation system.
Moisture can find shelter below carpeting. If it is trapped there for a long time (24-48 hours), mold growth will occur, and mold spores and microbial VOCs will become an integral part of the air you breathe.
Maintenance of your carpets is an important factor to consider for a number of additional reasons like longevity and overall aesthetic. Hence, professional carpet cleaning is the key to clean carpets and a healthy living environment.