Although it may seem harmless, mold is actually a nationwide problem, affecting homes, schools, workplaces, as well as commercial and industrial centres across Canada.
The areas of concern in today's blog are public buildings (schools, museums, shopping centres) and non-industrial workplaces.
The danger in these large public buildings is that once mold growth starts, it can spread incredibly fast throughout the entire building via HVAC systems, humidifiers, dirty filters, elevator shafts and ducts that are prone to condensation or leaks.
This leads to poor indoor air quality and an increase in the number of mold-related symptoms that occupants of the building experience.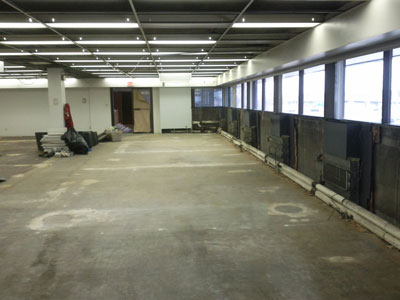 Poor air quality is also believed to be the cause of Sick Building Syndrome, a set of health symptoms, typically known for headaches and respiratory problems, that tends to affect office workers working in an unhealthy environment.
To make things worse, public buildings may not always have effective ventilation systems put in place, which explains why they so often have odours and stale air. Without sufficient air circulation, indoor air quality drops yet again.
How to remove mold in public buildings
In these cases, to effectively treat the problem, it is necessary to first conduct a professional mold investigation that will facilitate the development of a proper mold remediation strategy.
Making things difficult, however, is the fact that public buildings are just that – public. Conducting a safe and contained mold remediation is extremely difficult when there are people around, most of whom are not wearing protective safety gear.
That's why certified and experienced professionals should be the only ones to handle this kind of situation. With high-power mold removal equipment and methodical remediation protocols, they will be able to get the job done fast, minimizing the inconvenience factor and optimizing efficiency.
For more information about this topic, visit the Mold Busters website for your city. We serve Ottawa and Gatineau, Montreal, Kingston, Belleville, Toronto and surrounding areas.